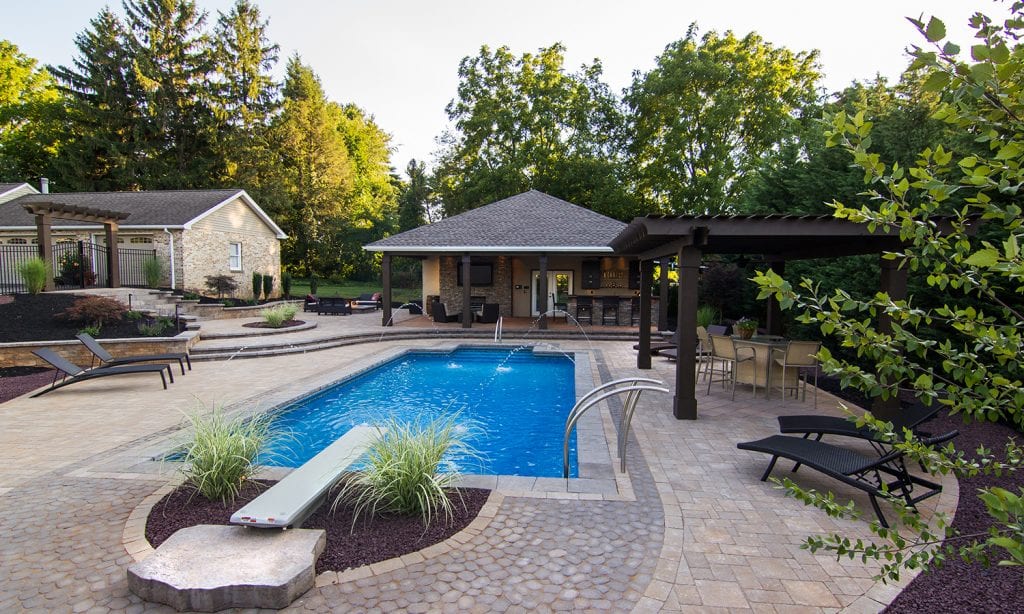 Inground Pools
Inground pools are one of the most popular outdoor living improvements you can make to your home. The value they add is impossible to put a price tag on because how can you place a value on great memories? Here at Greenville Pools, we aren't passionate about quality inground pools because of how they can make your home more marketable in the future, although that's not a bad benefit. What really makes us ecstatic is when a customer shares with us what their new custom pool has done to enhance their world.
We believe that the good memories shouldn't just begin when the pool construction has finished. They should also be occurring during the construction. We assign a dedicated project manager who is easy to contact should you have any questions or concerns about the project at your Greenville, South Carolina home along the way. We want to be certain your experience is worry-free and you never regret having chosen us.
4 Decisions You Need to Make Before Installing Inground Pools
When the summer season starts to warm up, many people look forward not just to longer days and fun vacations, but to the start of swim season! Swimming is a favorite pastime of many people during the long summer days, and your own inground pool can make those sweltering summer days all the more enjoyable. Here at Greenville Pools, we want to help make your installation of inground pools an enjoyable experience. Here are a few things you need to decide upon before taking the plunge for your own pool.
What is my realistic budget for inground pools? This is the first decision you will need to make, and perhaps the most important one, since it will determine a lot of the following decisions for you! At Greenville Pools, we have loads of experience that allows us to give you realistic budgets and timeframes, so you don't need to worry about unwelcome surprises.
Can I handle the maintenance, or will I need to hire it out? Many people forget about the maintenance aspect of owning a pool before the construction. Pools are not only a cost to build but carry an operating and maintenance cost as well. Be sure to factor these amounts into your overall cost.
What type of pool liner should I choose? There are different types of pool liners, each with their own ideal audience. Whether you want vinyl, concrete or fiberglass, we are happy to discuss each option with you to determine your ideal pool.
Do I want to add custom features? Custom features can add up quickly but can sometimes be less expensive if you add them into the original design rather than wait to add them later on. We are happy to discuss your options with you.
These are some of the decisions you will need to make before deciding to plunge into the exciting world of inground pools. Please give us a call today to learn more!
If you have looked at other companies that design and build inground pools, one thing you may have noticed is that they usually rely heavily on subcontractors. That is not the case with us. We are your one-stop shop, preferring to handle every facet in-house, so we can provide the quality results that meet our highest standards. We also do it this way so we can provide more affordable inground pools. Subcontractors add to the cost more than you might imagine, so by handling the design, build, paver installation, LED lighting, energy-efficient pump installation, comfort features, and specialty items such as a heat pump or spill-over spa in-house, we allow you to enjoy significant savings.
If you have any questions about inground pools or would like to know more about what we have to offer, don't hesitate to contact us.
---
At Greenville Pools, we install inground pools in Greenville, Mauldin, Simpsonville, and Spartanburg, South Carolina.
Similar Services We Offer: