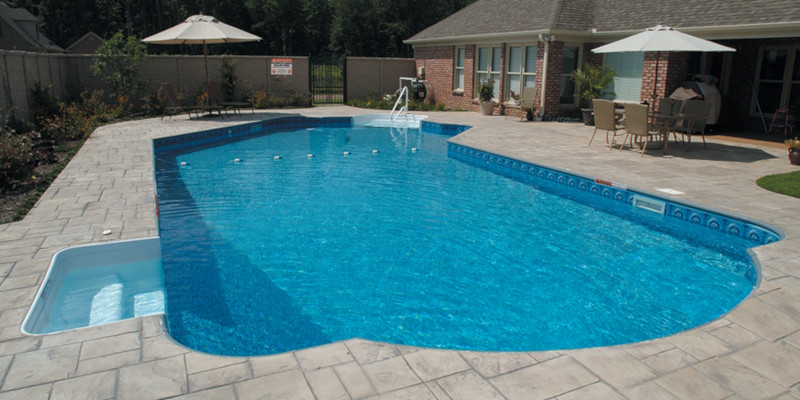 Our team at Greenville Pools takes the role of swimming pool builder very seriously. Not all swimming pool builders have the same level of integrity or commitment to the customer that we do, which is why we're one of the top companies offering service in Spartanburg, North Carolina. When you trust our team for the task of building a swimming pool on your property, we start by assessing the area available and coming up with a design for your custom pool. Our designers have worked closely with many customers over the years and can create beautiful, appealing pools that are also functional.
We are the premiere swimming pool builder for clients in Spartanburg.
Are you looking for a swimming pool builder in the Spartanburg, South Carolina area? Do you want someone who will listen carefully to your expectations and respond quickly to your questions and concerns? If you want a swimming pool builder with excellent customer service matched by dependable workmanship at a fair rate, then you need our team at Greenville Pools.
Here at Greenville Pools, we build the most reliable and elegant pools available in the Spartanburg area. We have been in the swimming pool industry for over thirty years. In that time, we've learned the best construction techniques and found high-quality materials so the finished product you receive from us is far beyond satisfactory.
We've also worked hard to create a positive customer service experience. You will work with a friendly, easy-to-contact project manager. They will make sure your concerns are addressed quickly and that your swimming pool meets all of your expectations. One great advantage to choosing Greenville Pools as your swimming pool builder is that we keep the entire construction project in-house, from design to final installation, including pavers and fencing; we are a one-stop shop.
Here at Greenville Pools, we work on projects of all sizes. Depending on your budget and specific requests, we can provide you with a small or large pool. We can keep to the basics or add class and comfort with features such as a tanning ledge, cake style steps, benches, LED lights, and high-quality heat pumps. We're here to listen your requests and then bring them to life.
Call us at Greenville Pools for a swimming pool builder you can trust to build your pool with nothing less than excellence.
After you have approved the design, the next step in the process is performing the construction of the new pool. We use in-house team members who specialize in pool construction and installation. By not outsourcing the work to subcontractors, we maintain better control over the quality and timeline of your project. You'll also have a designated project manager who oversees the construction process and is available to answer your questions.
Our team can also handle the installation of a safety fence around the pool, as well as the concrete or pavers that will serve as your pool deck. We use high-quality products with great customer satisfaction ratings and excellent warranties, allowing you to enjoy your pool for many years to come. When you're looking for a swimming pool builder, trust our team at Greenville Pools. We look forward to working with you to construct your dream pool.
---

At Greenville Pools, our swimming pool builders proudly serve Greenville, Mauldin, Simpsonville, and Spartanburg, South Carolina.

Similar Services We Offer: