Several things set us apart from other local pool contractors.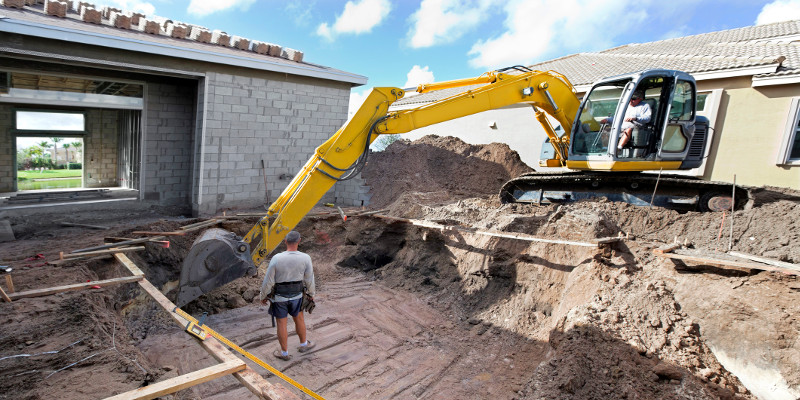 If you're thinking about adding a swimming pool to your Greenville, South Carolina property, you can find many pool contractors that offer this service. However, not all of those contractors will provide the same level of service or attention to detail that we offer at Greenville Pools. We are a leading pool contractor in the area, and we have designed and constructed swimming pools for many local clients.
FAQs for Pool Contractors
At Greenville Pools, our owner has been in the swimming pool industry for over 30 years. With that much time in the industry, it is safe to say that we have fielded an enormous number of questions over the years. In fact, we'd dare say we've gotten more than any other pool contractors in the area, especially since we are the only pool company in the Greenville, South Carolina area that takes care of pool installation and care from beginning to end. As your one-stop, in-house pool specialists, we will make your pool experience worry-free, starting right here and answering some frequently asked questions that we have responded to countless times in the past.
What makes you better than other pool builders?
If we had to say one thing that makes us better than other pool builders, it would be our dedication to customer service. That is really the foundation because it drives us to always be our best. We hire the best, we train the best, we use the best materials, we expect nothing but the best from everyone who works on your pool project, and we will always listen to your objectives and concerns so that we can be the best pool company for your needs.
What are the benefits of a custom pool?
While there are several reasons why you might want a custom pool, one that ranks at the top of the list is using the available space effectively. Not every building lot in the area, be it Greenville, Greer, or somewhere else, is shaped in a standard fashion or has the same space remaining after building the home. We can create your pool design based on the space allotted and what your vision is for a unique and functional swimming pool.
What are the benefits of an inground pool?
There are several reasons why you might choose an inground pool. For example, an inground pool will add more value to your property than an above-ground one. It has a permanency that bodes well with prospective buyers, especially if it is a unique pool design and pool construction has been completed by experienced professionals like us. It is also easier to care for an inground pool.
What types of pools do you build as a swimming pool contractor?
When you call on us to be your swimming pool contractors, we take the time to go over all your options, including a comprehensive explanation about inground gunite pools that are one of the most versatile and durable types of swimming pools around and well-suited for custom pool applications. Whether you are looking at small pools, salt water pools, or something else, you can be certain that we'll create the pool design that's right for you and begin and complete your pool construction sooner than most other companies out there. We can do that because we do all the work in-house, instead of relying on the reliability of someone else. We will also let you know what pool services you can expect in getting your pool ready for your first swim.
What benefits can you provide because you do all the work yourself?
As already mentioned, we can get your pool construction done sooner than a company that uses subcontractors for part of the project. Another benefit is that we can complete your custom pool at a lower cost, as there isn't another company involved that also needs to make a profit. You'll only have one project manager to communicate with, so you'll have little trouble getting your concerns or questions addressed in a timely manner. While our 30 years of experience mean you'll get a high level of quality, things can go wrong from time to time. When you work with just one company, there is no "passing the buck" onto someone else, so you can rest assured that we'll resolve whatever the issue is with no excuses whatsoever. We are solely responsible for delivering pool perfection, and we're passionate about doing that on every single project.
What phases of my swimming pool project can you do that most pool contractors don't?
It is one thing to say we do it all, but it is quite another to prove it. But we do! We install pavers, heat pumps, LED lighting, and comfort features, such as tanning ledges, benches, and "cake" style steps going into the pool, just to name a few of the added features that you can choose doing your custom pool design. In a nutshell, we deliver a swim-ready pool area that is ready for entertaining family and friends.
What areas in Upstate South Carolina do you service?
We are the premier pool installation company serving Greenville, Simpsonville, Greer, Mauldin, Spartanburg, and surrounding areas of Upstate South Carolina. If you aren't sure if we can help you out, don't hesitate to reach out to us, and we'll be happy to let you know if you are in our service area.
Several things set us apart from other local pool contractors. The first is our ability to handle every aspect of the swimming pool, from start to finish. Other companies have to hire out some of the tasks to sub-contractors, which often increases the price, reduces the quality of the work, and extends the timeline. At Greenville Pools, we can handle every task in-house to ensure excellent workmanship and quality, as well as a faster completion date. You'll also be assigned a dedicated project manager who will become your main point of communication, instead of having to talk to all the different sub-contractors on the job. If you have questions or concerns during the design or construction phases, you know exactly who to call to get the answer.
A pool builder you can trust.
As pool contractors, we take the time to understand what you want from this addition to your home. Our goal is to design and construct the perfect pool that will bring you and your family joy for many years to come. We can add unique features to make your pool safer or more functional, as well as comfort or design elements that will create a unique appearance. For the best in swimming pools, contact Greenville Pools.
---
At Greenville Pools, our pool contractors proudly serve Greenville, Mauldin, Simpsonville, and Spartanburg, South Carolina.