When it comes to swimming pool design, planning is key, especially for families of four or more. It's not just about the aesthetics but also considering the functionality, safety, and comfort of every family member. Let's dive into some insightful tips for designing the perfect swimming pool for your larger family.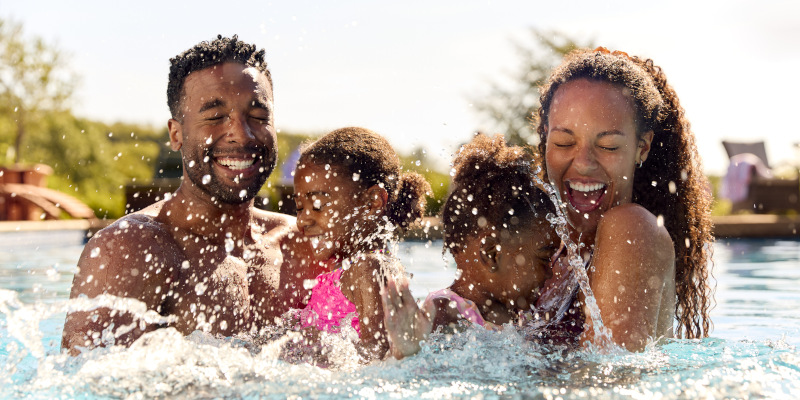 Spaciousness and Shape. The first aspect to consider is the size and shape of the pool. A larger family means more people in the water at once. A rectangular pool is a classic choice providing ample swimming and games space. However, if you're looking for a unique touch, we offer an array of liner pools with metal walls in various shapes and sizes.
Steps and Ledges. To accommodate swimmers of different ages and abilities, opt for "cake" style steps and tanning ledges. These features not only enhance accessibility but also offer a perfect spot for relaxation and play.
Safety Measures. Prioritize safety, especially if you have young children. An aluminum fence around the pool adds to the aesthetic appeal and keeps your pool area secure.
Comfort Features. Consider adding benches for seating within the pool. Benches are great for relaxation, providing a spot for adults to supervise children or just a place to socialize during pool parties.
Spill-over Spas. For a touch of luxury, consider integrating a spill-over spa into your pool design. A spa can offer a tranquil retreat for adults, while kids will love the fun of the spill-over effect.
Decking and Surroundings. The swimming pool design extends to the outside of the pool. Opt for pavers instead of concrete for a beautiful, durable, cool underfoot surface. We specialize in paver installation, providing an attractive finish to your pool area.
At Greenville Pools, we understand that a pool should be more than just a water-filled space – it should reflect your family's needs and lifestyle. With over 30 years of experience in swimming pool design, we can help bring your vision to life, ensuring a fun, safe, and enjoyable environment for everyone. Contact us today, and let's start designing your dream pool.