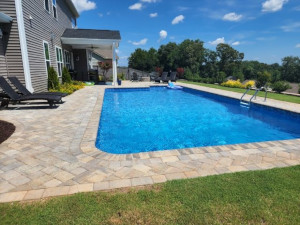 Swimming pools keep you cool during the hot summer, and they're a great place to host parties. Of course, pools are also great for exercise. But how do you choose a pool design that fits your family's needs and complements your backyard space?
Our experts at Greenville Pools will listen to your pool wish list and work alongside you to create a pool design you will love. To get the best option for your specific needs, however, it's important to answer these questions first.
How will you use the pool? Do you see yourself swimming laps or simply splashing around with the family? Do you want a deep end to dive into and steps to get out of the pool easily? We are the only total pool builders in Greenville, meaning we take care of your project from beginning to end. We specialize in building pools with metal walls, so we can customize the shape and size of the pool to match its intended use.
How do you use your backyard? A swimming pool should add value and comfort to your space, not dominate the backyard. The pool design is dependent on how you want to use the rest of your yard. Do you have pets and children who need a grassy area to play? Will you want a large area to grill out and entertain guests? Your yard may already have a tool shed or playscape that can't be moved easily.
What is your design style? Look at the items in your home or the clothing you wear to get a general idea of your style, whether it is rustic, modern, or organic? A well-designed pool can convey those styles, too. It comes down to shape, color, and additional features, such as lighting and landscaping. Our vinyl liners come in many colors and styles. Want to start planning your pool, but don't know what to do next? Contact one of our custom swimming pool designers today.